Each November, the legendary Festival of Fisher's Ghost comes alive in Campbelltown, New South Wales in Australia. The Festival is steeped in history, dating back to 1956. It is named after Australia's most famous ghost, Frederick Fisher.
Frederick George James Fisher was born in Bethnal Green, London on 28 August 1792. He worked as a shopkeeper until, either innocently or deliberately, he obtained forged banknotes through his business. On 26 July 1815, Fred was sentenced to 14 years transportation to Australia. He was sent on a convict ship called the "Atlas". Because he was a learned man (could read & write fluently) he worked off his crime in Australia & bought a few farms, land, was also started up a paper making business.
In 1822, he applied for a ticket-of-leave and eventually secured a property at Campbelltown, now a large urban population centre on the southwestern outskirts of Sydney, but at the time a remote rural outpost.
In 1825, Fred had an argument with a local carpenter and received a light prison sentence. Worried about his farm, Fred gave his neighbour, George Worrall, power of attorney during his sentence. After his release, on 17 June 1826, Fred Fisher mysteriously disappeared
Three weeks later, George sold Fred's horse and belongings, claiming that  Fisher had returned to England, and that before departing had given him power of attorney over his property and general affairs. Later, Worrall claimed that Fisher had written to him to advise that he was not intending to return to Australia, and giving his farm to Worrall.
Four months after Fisher's disappearance a respectable local man named John Farley, ran into the local hotel in a very agitated state. He told the astonished patrons that he had seen the ghost of Fred Fisher sitting on the rail of a nearby bridge. Farley related that the ghost had not spoken, but had merely pointed to a paddock beyond the creek, before disappearing.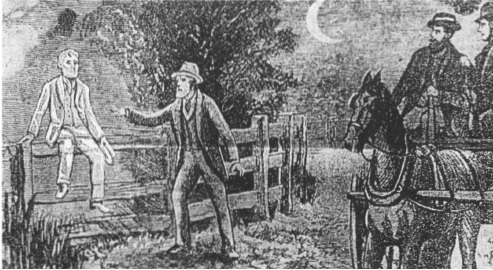 Initially Farley's tale was dismissed, but the circumstances surrounding Fisher's disappearance eventually aroused sufficient suspicion that a police search of the paddock to which the ghost had pointed was undertaken – during which the remains of the murdered Fisher were discovered buried by the side of a creek.
On 17 September 1826, George Worrall was arrested on suspicion of Fred's murder. During the trial, George confessed – even though the tale of the ghostly sighting could not be told in court, as stories of the supernatural were not permitted in a court of law. Worrall was hanged and his body buried in the cemetery at St Peter's Anglican Church in Campbelltown.
It is thought by some that the story of the ghost may have been invented by Farley as a way of concealing some other speculated source of his knowledge about the whereabouts of Fisher's body, but this cannot be confirmed. Contemporary police and court records do not mention the ghost story – but they are also silent on how the authorities knew where to look for Fisher's body.
The legend of Fisher's ghost has since entered popular folklore and is celebrated during Campbelltown's annual Fisher's Ghost Festival which commences early November concluding mid-month. The creek beside which the body was discovered is known as Fisher's Ghost Creek. It has now however been converted into mostly a storm water drain.
There is an interesting version on the accepted story, printed in The Cumberland Argus and Fruitgrowers Advocate (Parramatta) on 20 September 1934:
FISHER'S GHOST
Mr. Fred Pike, of '"The Rosary," Pike's Lane, Eastern Creek, writes: –
'This is the story of Fisher's ghost as told to me by my late mother, Ann Pike, who was a daughter of the late William Dean, commonly known as Lumpy Dean, on account of his weight, which was 22 stone. Lumpy was a great friend of Mr. Fisher, who came over to bid my grandfather good-bye two days before he was supposed to start for England. A few days after, Mr. Farley came over to my grandfather. He seemed very upset, and Lumpy asked him what was the matter. He invited him to have a drink to steady his nerves. Farley said he had seen Mr. Fisher on the Dog trap bridge and spoke to him. When he looked round again he saw Mr Fisher disappear over the side of the bridge. Lumpy told him it was imagination as Fisher was on his way to England. A couple of nights after, he came again and was again very upset, and told Lumpy that he was sure he saw Fisher at the same place, and spoke to him again, and the same thing happened. Lumpy then told him to go and see the sergeant of police and explain what took place. He went into Parramatta and the sergeant, with another policeman and a blacktracker, went out, and in a waterhole the tracker said there was white man's fat, and they got him to go in. When he came up he said 'white man down below,' and would not go in again.
"They secured grappling irons and recovered the body. After enquiries, Fisher's share partner was arrested, convicted, and hanged."
[Sources: www.fishersghost.com.au, http://trove.nla.gov.au  Wikipedia, Joan Pawloski]