THE DOVER EXPRESS AND EAST KENT NEWS
FRIDAY, 15 MAY 1914
DEATH OF Ex-P.S. SUTERS.
We regret to announce the death, which occurred after an operation at Guy's Hospital, London, on Monday, of Mr Harry R Suters, of 92 Elms Vale Road. Mr Suters, who was 64 years ofl age, was for 26 years in the Dover Police Force, retiring as sergeant about ten years ago. He was a trustee of the Cinque Ports Warden Lodge of Oddfellows, and a P.G., and was a warden of the Dover Habitation of the Primrose League.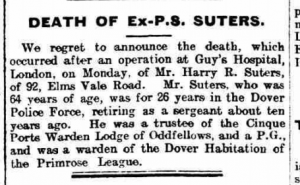 Print Friendly