At least two of those men in my family tree killed in action during World War Two died at sea… but not necessarily by enemy fire. These are their stories.
---
Stoker John Hogben (First Class) – (1920-1940)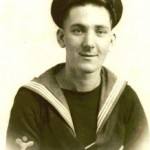 John Henry Thomas Hogben was born in 1920, the son of John William Hogben and Alice Willis. John joined the Royal Navy and at the time of his death held the rank of Stoker (First Class) aboard HMS Imogen,
On July 16th 1940 HMS Imogen was in collision with HM Cruiser Glasgow in thick fog off Duncansby Head, Scotland. Extensive damage was caused and fires started which forced abandonment of ship. The surviving ship's company were rescued by the Glasgow. The Imogen was abandoned about 5 nautical miles south-east of Duncansby Head, Scotland and sank in position 58º34'N, 02º54'W.
Sadly John was one of the fatalities – he was just 20 years old. He is commemorated on the Chatham Naval Memorial in Kent.
Boatswain William Shepherd (Merchant Navy) – (1908-1945)
William Ernest Sydney SHEPHERD was born 30 November 1908 in Plumstead, Kent. His parents were William James Shepherd and Olive Camilla Hopper.
William married Winifred Imrie in Dundee, Scotland on 20 December 1938 and in Aril 1941 they had a son, William. By now they were living in Plymouth.
William was killed when his ship – the HMTS 'Alert' – was torpedoed and sank in the English Channel while repairing the Dumpton Gap-La Panne cable on the 24th February 1945 with the loss of all 53 officers and crew, 1 civilian and 6 members of the Royal Navy.
William was 34 years old and is commemorated on the Tower Hill Memorial in London.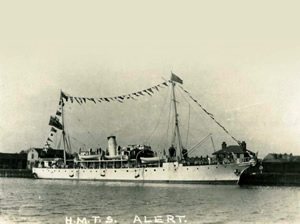 It is apparent from reports at the time that the exact circumstances in which the HMTS Alert was lost are unclear. But here are the various snippets of information:
On the morning of 24 February 1945 the two man crew of the German U-5330, Oberleutnant zur See, Klaus Sparbrodt, and Masch Mt. Gunter Jahnke claimed to have sunk a corvette north-east of the South Falls.
Initially it was assumed by the Kriegsmarine that they had sunk the 1,050 ton French destroyer La Combattante, but this ship had been mined off the Humber estuary on the night of 23/24 February, by a mine laid on 16 February 1945 by German Motor Torpedo Boats (Schnellboots or E-boats), and the real victim of U-5330 was in fact the British G.P.O. cable layer HMTS Alert.
The HM Transport Ship Alert left Plymouth for repair work on the Broadstairs-La Planne cable. She left anchorage off Ramsgate at 7am on 24 February and was last seen by HM ship at 10.05 am between Elbow Buoy and South Falls Buoy. At 11.15am this HM ship found a wreck which 30 hours later was identified as the Alert. No explosion was heard by HM ship and the weather at 1.45 was wind W by N force 2, visibility one mile. The Master of the Alert is stated to have been in touch with Canterbury GPO and at about 10.30am on 24 February said he would ring again shortly but did not do so. It can only be presumed that she was torpedoes by a U boat or a midget submarine or possibly fouled an old mine in her own or the telegraph cable.
Dover Express: March 13 1945
A raft marked Alert washed ashore on 6 March 1945 near De Haan between Ostend and Blankenbughe. The bodies showed no sign of wounding, death evidently due to exposure having occured about a week previously and clothing was that of naval ratings.
Three bodies, with death possibly caused by exposure, were later discovered from a raft which drifted ashore at De Haan, Belgium. They may have been 2nd Officer James Dixon, Chief Engineer Herbert Charles, from Dover, and John Crosby Taws, the 4th Officer. All are now buried at Oye-Place, France. One body, that of Norman MacLeod, Radio Officer, was recovered from the sea and now lies at Calais. There were also two bodies washed up at Harwich.
From a letter dated March 15 1945 from Admiralty, Whitehall to the Postmaster General:
Close escort was not provided for the Alert as she was working within seven miles of Ramsgate, it was daylight, and a motor launch was on patrol was in the vicinity. Shortly after the sinking is presumed to have taken place, a new wreck was sighted by one of the HM Ships, but it was not reported until later in the day. The Commanding Officer of HM Ship concerned did not connect the wreck with HMTS Alert as visibility was low and no explosion had been heard.
The cause of the loss is not definitely known, but the evidence points to it having been an explosion of such force as to prevent distress signals being sent and to account for the absence of any survivors.
From a letter dated July 1945, from Admiralty, Whitehall to the Postmaster General:
I very much regret to have to inform you that the enquiry has shown that certain Naval Officers failed to keep themselves and others properly informed of the movements of the Alert, which resulted in delay in recognising that she had been lost and in searching for any survivors. I can only say that the Board of Admiralty are deeply distressed by the findings of the enquiry, and they have taken disciplinary action against the officers who failed in their duty.
---
Sources: Malcolm Ellis & The Dover War Memorial Project