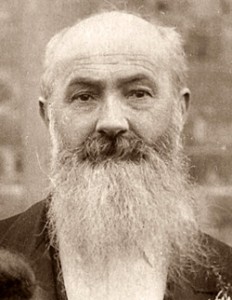 Alfred Kingsnorth was born in 1837 in Faversham, Kent. He and his first wife, Mary Ann Alefounder, had four children: Alfred (1862), William (1864), Elizabeth(1869) and Susannah (1872) (my great grandmother). Mary Ann died in 1873 at the age of just 41. Alfred married again in 1877  to Vashti Wilmott  with whom he had two more children: Cecil (1878) and Algernon (1881).
Alfred was a tailor, and it would appear that the flair for business was passed onto his son, William, who moved to Westbourne, Bournemouth in Dorset and ran the Beehive Stores on Seamoor Road (a successful Grocery business). In the 1870s Westbourne was described as a hamlet built around Seamoor Road, an important position on the old Bournemouth/Poole boundary. By the time of the 1901 Census William is described as a Grocer and Provision Dealer and as an 'employer'.
At the time the letter from Alfred was written, William had quite a houseful. As well as he and his wife Louisa (both about 30 years old) and their son Thomas (aged 2), there was also William's brother Alfred (29) and his wife Rosina (25) and their three children Charles (4), Sydney (3) and newborn Elsie.
The following letter was written by Alfred on Tuesday, 10 March 1891 whilst he was staying with William and his household. .
---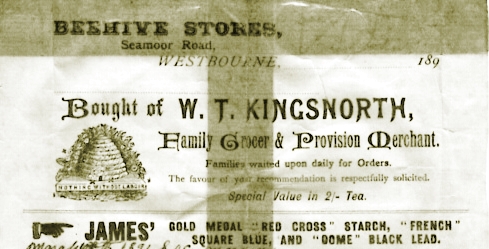 March 10 1891,  8 o'clock in the morning
My own very dear Susie. I wrote home yesterday or I should have written to you. Now I must tell you that it commenced to rain just as I was leaving London and before I got half way here it was driving hard and continued on all Saturday evening. Willy was at the station to meet me. The first glance he took he thought I was not there. I arrived at quarter past 3. Well it rained nearly all day on Sunday. I went to Westbourne Chapel in the morning with Will, to his Bible Class in the afternoon, and Bournemouth Chapel in the evening by myself for I am sorry to tell you that I found Louie very ill and she is still. Had the Doctor yesterday. She is about the same this morning. Well, when I left Chapel Sunday night it did not rain but it was very cold so I made haste home and I have not been outside the house since for it snowed all day yesterday and I think all night, so there is quite a deep snow this morning.
My dearest Susie bless your heart. I thank you very much for sending me the 10 shillings. I am afraid you will want it. I pray every day that God will bless and keep you and help you to bear what you have to bear. I hope, my dear girl, you will continue to pray to God for yourself and Lizzie and Alfred and Rose, Willie and Louie and all at home and last of all me, even me, for I feel I should not have been able to have put up with all that I have had it not been for prayer. We can't bear trouble and trials in our own strength but we learn through Christ who strengthens us, and I often think of you girls in fact I am nearly always thinking about your being where there is so much temptation. If anything was to happen to either of you through Satan's temptations it would break my heart and bring me to my grave before my time, so do make God your friend through Christ our Lord and then you will have a rock to stand upon, and Jesus is always to be found of them that seek him. He has said in plain words they that seek me early shall find me and he will hear us when we are at work as well as when we are in Chapel.
Now my dear, it is nearly dinner time and I don't see much signs of going out for it has been snowing nearly all the morning. It has held up a little now. I have not quite made up my mind when I shall leave here so I will write again and let you both know when I shall be in London. I should like to see you both very much if it can be. It is snowing very hard again now, there is so much snow on the ground that Will boy can't take his truck out with goods. I think this has come unexpected. It is no use fretting about it, that's one thing. I have just been to Louie's bedroom to see how she is. She says she feels a little better if anything. I told her I was writing to you. She and Willie send their best love to you both.
I can't think how I could have finished your Mother's letter and sent it off without sending Will's and Louie's, but I believe I did. I hope your Mother won't feel hurt about it because it was only my forgetfulness. I thought I had said all I wanted to say. I feel sorry. Please give my best love to Alfred and Rose when you see them. They made me very comfortable. Rose was kind enough to wash my scarf and handkerchief before I left. Dear Lizzie asked her to.
Now my dear I must say goodbye for a short time, hoping you and dear Lizzie will I remain your affectionate and loving Father to my very dearest girls, Suzie  and Lizzie. Goodbye.
---
(It is clear from the letter that the Kingsnorth family were devout Christians, attending church regularly and building their lives on faith and prayer.)
The original letter can be read by clicking this link.