When William Benefield set sail with his wife and child from Plymouth in 1874, bound for New Zealand, he could not have foreseen that the roots he would plant there would yield such a rich harvest – both literally and figuratively!
---
1. Sowing the Seed
William Thomas Benefield was born in the hamlet of Kingston (between Canterbury and Dover) in Kent, England in 1852, the eldest of nine children born to Robert and Mary Ann Benefield.
On 31 March 1872 – when he was twenty years old – William married Esther Martin in Dartford, Kent and within a year their first child, a son called William Alfred, was born.
A year later, on 24 March 1874 William and his family boarded the ship 'Waikato' at Plymouth and set sail for Auckland, New Zealand, with Captain Hodder at the helm. The reason for their decision to emigrate isn't clear, but family tradition has it that William was a 'nurseryman' took with him plants and fruits and seeds'.
The ship had on board a full general cargo, railway material for Auckland, ten or twelve first-class passengers, and a large body of emigrants, comprising 67 married couples, 76 single men, 41 single women, 50 boys, 45 girls under twelve years of age, and 23 infants.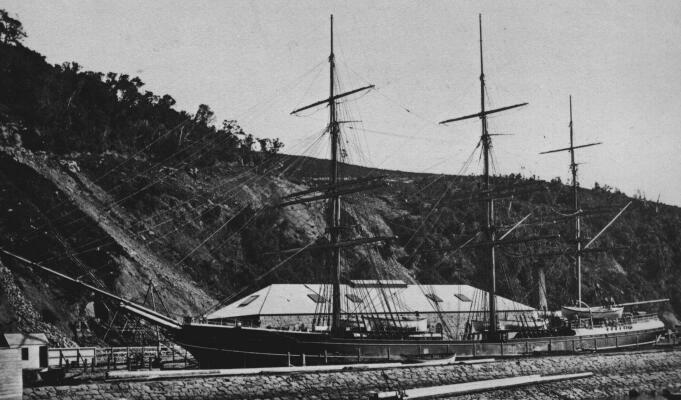 The passenger manifest included a William T Benefield, a 23-year old Tanner from Kent, his wife Esther, also aged 23 and their son William aged 2.
The 'Waikato' finally arrived in Wellington on the 11th of July 1874, some 109 days after leaving England. It then sailed on to Auckland arriving 17 August with 105 passengers. William and his family settled in the town of Wanganui on the North Island.
2. Small shoots
References to the beginnings of the Benefield horticulture business in New Zealand recount how William was 'a nurseryman from Kent, England, who arrived in Wanganui in 1874, bringing plants, fruit and seeds.' Alternatively, they tell us that he was 'born in Kent, and came to New Zealand per ship 'Waikato' in 1873, arriving in Wellington. He at once settled in Wanganui, and by diligence and hard work has shown what can be done in the Colony.' How much of this it true is difficult to tell.
The first public record of William's business plans appeared on the 24 June 1876 in the 'Wanganui Chronicle', in the 'Local and General News' section on page 2 :
'BUSINESS EXTENSIONS – Guyton Street, in addition to its present establishment for the supply of the necessaries of life, will also soon have a fruit, fish, and vegetable shop, which in that thickly populated locality should be well supported. The future caterer, Mr Benefield, is determined to wire in briskly, and as he is a practical gardener, the fruit and vegetable departments should in any case be efficiently managed. Mr Benefield's establishment is to open in a few days.'

Sure enough, on 31 July that year this advertisement was published – and appeared in the paper every day for the next month.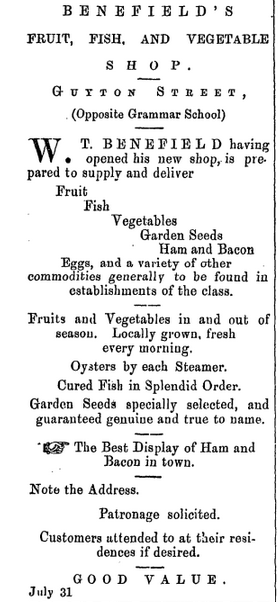 3. Branching Out
The following August William took over the lease of wasteland adjacent to the nursery and, with the help of four men, began the work of transforming it into what he envisaged as 'pleasure gardens'.
On 15 September 1877 a new advertisement appeared in the Wanganui Chronicle:
St John's Nursery
Glasgow Street
Wanganui
Come to life again
WT Benefield, Proprietor
W T Benefield begs to inform his customers and public generally that he is in a better position than heretofore, to supply them with the best of Vegetables, also Flowers. Flowers grown in or out of pots.
Bouquets of all descriptions supplied on the shortest notice.
WTB having made arrangements with the best Nelson and American houses, anything ordered not in stock, will be procured as quickly as possible.
____
Soliciting a fair share of patronage.
____
W T BENEFIELD
St John's Nursery
Glasgow Street
Fruit and Seed Shop, Guyton Street, Wanganui
____
All orders left with W D Shaw, Victoria Avenue will be promptly attended to.
And just two days later a notice was published in the 'Local and General' section, informing readers that Mr Benefield had announced a 'new venture which should develop remuneratively'. Besides the existing nursery, and vegetable and flower garden, William planned to 'lay off a portion of his grounds as a tea garden, and place of resort for ladies and children, for which purpose they are specially adapted.
4. "In full bloom!"
As planned, in mid-December the advertisements started appearing in the Wanganui Chronicle and Wanganui Herald titled 'St John's Nursery and Tea Gardens', stating that 'W T Benefield, Proprietor, wishes to return his sincere thanks to his customers, and the public generally, for past favors, and hopes to continue the same'.
WTB wishes to remind the public that he intends opening his grounds on December the 25th, as TEA GARDENS AND PLEASURE GROUNDS, on Wednesday and Sunday afternoon, from 2pm till 6pm.
WTB Having erected Arbours and Seats for the use of Visitors, they can have what kind of fruit they choose, that is in season, picked fresh from the tree.
Dogs will be strictly prohibited.
Refreshments will be provided on the Grounds.
St John's Nursery and Tea Gardens, Glasgow Street, Wanganui.
It seems WTB's 'customers and the general public' were so enthralled with this that the Chronicle published the following article praising his horticultural talents and given a valuable insight into the effort William and his staff went to in turning overgrown wasteland into a profitable nursery and 'pleasure gardens'.
BENEFIELD'S GARDENS, GLASGOW STREET.
Some years ago, when our town was in its infancy, and our people as a rule too busy to trouble themselves much about their surroundings or the adornment or beautifying of their dwellings, a gentleman of refined and cultivated taste employed his leisure in laying out and forming a garden, which he no doubt intended should in time be a paradise of beauty. Broad walks in various directions subdivided the velvet turf, which was profusely clotted with elegant and rare shrubs, and bordered with bright and beautiful flowers; magnificent trees in many varieties were placed here and there, in some places so thickly as to form, when full grown, a grateful shade from the summer sun. The box-edged walks crossed and recrossed each other, and were so much alike that it must have been as easy as pleasant to lose oneself in their mazy labyrinths. Delicious fruit, also, of every kind was grown in abundance.
The small but tasteful dwelling situated in the centre of the grounds was surrounded on every hand by flower plots of many designs, richly studded with exquisite blossoms which filled the air with their sweet fragrance. Every rarity which wealth could procure found a place, no expense being spared to render the grounds attractive, and they must have formed a delightful oasis in the desert of sand which encompassed them on every side.
But in the course of time, circumstances caused the removal of him whose busy brain had planned this garden of delight, and it was suffered to fall into decay. Noxious weeds sprang up and choked the flowers, thistles and docks flourished where roses and lilies had been, the soil which had been rendered rich and loamy caused caused the shrubs to grow luxuriantly, but being uncared for and unattended, they grew so wildly that their branches interlaced, while the formed a miniature forest. The fruit trees, long strangers to the pruning knife, were fast becoming valueless, and the grape vines, having climbed their stems and twined their tendrils round every available twig, combined with them to form a dense and almost impenetrable thicket. Disorder and confusion reigned, and the erstwhile lovely garden had become a damp, neglected waste, apparently incapable of improvement, when the restorer appeared, in the shape of Mr W. T. Benefield, whose practical knowledge of gardening and ability of adapting means to ends, soon proved more than a match for the demon of neglect which so long held undisputed sway.
Having had considerable experience in horticulture in the old country, a glance round the grounds was sufficient to convince him that they might be made to bloom in more than their former beauty, and though aware that the task of restoration was a herculean one, he decided on its attempt; and though much yet remains to be done, we are so pleased with the result of his labours, that we mean to describe them to our readers, who no doubt will give Mr Benefield the encouragement of their support and patronage. No very long period has elapsed since that gentleman began the work of reclamation, he having taken over the lease in August last, since which time he has kept four men constantly employed, besides sparing no exertion himself in order that a public want might be supplied during the holiday season, and the subsequent days of intense heat, when all are glad to avail themselves of every opportunity afforded for enjoying a rest, in the shade.
The first difficulty that presented itself was where to begin. Having solved that point, he set to work. All the borders had been originally planted with box, which had grown about four feet high, thus hedging in the walks, and effectually preventing the visitor from seeing the flowers which grew beyond. Cutting this down in many places to the height of about eighteen inches and weeding out the borders and removing the undergrowth from the shrubbery, he replaced them with choice and well-selected flowers and ferns, with here and there mounds of rock work, which, overgrown with creepers and having in the centre of each a miniature fountain, have a very pretty appearance. Every handsome flowering shrub finds a place. The many varieties of magnolias, camelias. Japonica, rhododendron, pomegranate, and a hundred others of varying beauty. The shrubs in the avenue had been originally planted in pairs to match, so that whatever shrub or tree is found on one side has its counterpart on the other, except in one instance where a splendid specimen of the pinus insignis stands alone in solitary grandeur, its fellow having been blown down no very long time since, owing to a circumstance of a somewhat singular nature. It appears that in the infancy of this tree a piece of strong wire had been twisted round it, probably to fasten it to a stake, and having been left forgotten there, it had prevented the roots of the tree growing to any size, although its upper part had apparently flourished. The stem gradually grew over the wire and concealed it from view, until a breeze more than usually strong caused it to snap close by the roots, the thickest of which was found to be no bigger than a slender arm.
The ornamental trees have some of them grown to an immense height, the cupressus macrocarpa and spreading cupressus more particularly, and Mr Benefield has utilised them by bringing their branches down and forming of them shady arbours, where tea and cake, and fruit plucked fresh from the trees, can be partaken of by visitors on all holidays and on Wednesday and Sunday afternoons. In all directions these pleasant retreats are to be found. In some cases the ground cleared beneath the spreading branches of the magnificent trees is sufficient to allow of a round dance, were visitors so disposed. The labour of forming these arbours must have been considerable, but was child's play to the work of clearing the orchard, through which Mr Benefield had literally to cut his way. The trees had been planted too close together, and as a consequence, were impoverishing the soil, and destroying each other. It was necessary, therefore, to cut down more than half of them, and after the rest had been freely pruned, the grape vines which clung to them cut down to a reasonable size, and the tall rank weeds removed, the orchard began in some degree to resemble the scene of other days and now that most of the splendid trees contained in it are in full bearing, it is a very fine and tempting sight indeed.
Mr Benefield has been at much expense and trouble in renovating the place, in order to fit it not only for a nursery, where choice plants and seeds can be procured, but also for a public pleasure garden, where small family parties may meet, and in its cool shade partake together of dainty fruit, and other delicacies where sentimental pairs may linger, and the public in general enjoy themselves to the top of their bent. The grounds were thrown open for the first time publicly, on Christinas day, when about seventy visitors availed themselves of the permission to enter. We have no doubt that on future holidays Mr Benelield will reap a rich harvest from an appreciative public'
The following year, 1878, William Benefield took to entering and winning 1st and 2nd prizes in local horticultural shows. The Wanganui Chronicle reported on such exhibitions taking place on 28 February 1878, 21 November 1878, 26 February 1879, 10 March 1879 , amongst others.
William later moved premises from Glasgow Street, setting up the Aramoho Nursery. By 1885 the Wanganui Herald was able to publish the following report, dated 8 June, which gives a detailed and colourful description of …
MR BENEFIELD'S NURSERY.
A few days ago our representative paid a visit to the Aramoho Nursery kept by Mr Benefield, near the Aramoho Railway Station. Those who have judged the nursery from its appearance, as seen from a railway carriage, can form no idea of what Mr Benefield has done in the way of forming a nursery garden there. When he first went there some five years ago, the place was a veritable desert, occupied by docks and thistles of a gigantic size, to-day, thanks to his industry and perseverance, the place bears a different aspect. The extent of ground Mr Benefield occupies is about 20 acres, of which at present, he has about five under cultivation, the remainder being in grass. The land under cultivation has all been dug up, trenched and manured in a manner which some of our amateur gardeners would do well to copy. Some now being turned over is trenched to a depth of three feet, and a layer of lime is added to the soil, with these conditions Mr Benefield is able to procure good results, as a walk round his five acres proves.
In apple trees there are no fewer than 15,000 yearlings, and in apples Mr Benefield makes a speciality. The trees are all grafted on to blight-resisting stocks, and a much larger proportion of winter apples are grown than anything else. Mr Benefield is of opinion that fruit growers in this district require educating to the fact that winter apples are what they should put in more than summer apples, because of the better prices obtainable for the former, and the much greater demand there is for them. The large stock of yearling, two-year and three-year-old apple trees look remarkably well, and a good quantity of fruit was obtained from the latter this year. Some samples of these were remarkably fine, and the flavour of the eating apples could not be surpassed.
In the smaller fruits, such as currants and gooseberries, there are large numbers of plants of new and old varieties. For strawberries, the last season proved a very good one, and it is the owner's intention to lay out another acre in this favorite fruit this year.
Fancy plants have a section all to themselves, and in this department the nursery has been very successful. Of pines and ornamental trees there is a large stock, and a number of seedlings sown in September last are looking remakably well, while those that are older are strong healthy trees. Of the 'pinus insignis', 'macro-carpa', and such like well-known varieties Mr Benefield keeps a large supply, and as there is an ever increasing demand for these trees he should have a ready sale for them.
As an instance of the fertility of the soil in this part it may be mentioned that from a small patch of ground, not very many feet square, half-a-ton of tomatoes were raised. This year Mr Benefield intends taking in a further extent of land, about three acres, and when this has been accomplished he will have a nursery second to none.
The labour required to bring a nursery garden to a state of efficiency is immense, and we trust that Mr Benefield will find a profitable market for his produce. He keeps nothing but the best kinds of stock, and attends carefully to their growth.
The nursery is close to the railway station, and our country readers cannot do better than pay it a visit as they come into town.
Over the next fifteen years William and Esther had a total of nine children, the youngest, George, being born in 1889.
In the early 1900's Benefield's Nursery was reported as one of the 'Leading nurseries in the dominion, specialising in roses, fruit trees, camellias ,magnolias & rhododendrons'  (Source: Pioneer Nurseryman of New Zealand). Since then successive generations of the family continued to develop their skills in a wide and varied range of horticultural skills.
Such was the success of the Benefield horticulture business that an article about William was included in the 1897 edition of the Cyclopedia of New Zealand [Wellington Provincial District].
William Benefield was chairman of the Waitotara licensing bench for three years, and was a member of the Aramoho school committee. He has also a member of the Oddfellows' Order for twenty-four years, having passed through all the chairs, and in 1885 was Provincial Grand Master of the Order.
William retired from active control of the Aramoho Nursery on 1 January 1903, and his third son, Arthur, took over the entire management of the nurseries. With Arthur at the helm the business continued to flourish, further reports appearing in the Wanganui Herald in 1903 ('Benefield's Nursery') and again in the Cyclopedia of New Zealand in 1908 ('Nurserymen and Fruiterers').
In 1922 to celebrate their Golden Wedding anniversary, William and Esther arranged a 'Benefield Gathering' at the Aramoho Zoo at which were around 60 members of their close and extended family.
As late on as January 1937 the Benefield's Nursery were still being given high profile in publications such as the New Zealand Railways Magazine which included these photos (The New Zealand Railways Magazine, Volume 11, Issue 10)
In 1943 – the year before his death – William T Benefield held the position of  President of the New Zealand Nurserymen's Association (now the Nursery and Garden Industry New Zealand (NGINZ))
5. Going to seed
All businesses depend on planning ahead, listening and reacting to the market, good money management and effective leadership.  The downfall of the Benefield Nursery apparently came in the early 1960s when the founder's Great Grandson Kevin Benefield took the helm.
He made two fateful decisions which ultimately resulted in the company going bust. Firstly he sold the extensive property at Kelvin Street which included a beautiful old home and purchase property out in the country on the north side of Wanganui which had nothing on it.
Secondly – for whatever reasons – he took the decision to go into potato planting, uprooting a lot of rose plants for which the Nursery was renowned. Unfortunately, there was a potato blight and all the money was lost.
6. Rising again
Despite this, today there are at least two horticulture-related lines of business being continued in the Benefield name.
Patrick's story – 'Benefield's Rose Farm', Halfway Creek, NSW, Australia
Benefield's Rose Farm is a family owned and operated business and enjoys a rich heritage in horticulture.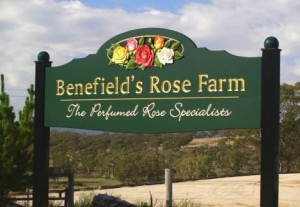 In 1984, Patrick Benefield (William Benefield's great grandson) and his wife Diane – together with their  five children migrated to the Mid-North Coast, NSW Australia. In September 1985, Patrick & Diane with eldest son Matthew, purchased the current 20 hectare rose farm property at Halfway Creek, NSW Australia.
Immediately a low chill stone fruit tree nursery was developed with many thousands of trees being propagated for the then burgeoning low chill stone fruit industry. At the same time, a 15,000 tree peach & nectarine orchard was established.
The rose farm was established around 1990 after various setbacks with the orchard and the general demise of the low chill stone fruit industry. Establishing the rose farm in a sub-tropical climate has been and still is very challenging. It has been very rewarding and is a testament to the resilience, adaptability and toughness of the rose.
Benefield's Rose Farm is currently operated by Matthew Benefield (5th generation) with the assistance of Patrick (4th generation) & Diane.
Benefield's Rose Farm is a retail horticultural business which grows and sells directly to the public.
The nursery produces around 20,000 rose plants annually comprising around 700 different varieties. All plants are pot grown for all year round planting. Benefield's Rose Farm grows around 10,000 roses that are picked daily for 8-9 months of each year. These roses are bunched and sold directly to consumers at the farm gate and local growers markets.
The Benefields specialise in perfumed rose varieties and because of this their farm has become a much sought after destination for rose lovers.
They have attractively landscaped rose gardens which feature over 2000 rose bushes giving a display of the amazing diversity of rose types.
Benefield's Rose Farm is also set on 19 hectares of landscaped park like areas with a central lake that surrounds replicas of the New Zealand Islands! The tranquil rural setting co exists with many native birds, kangaroos & wallabies.
Patrick and his wife Diane run the 'Benefield Rose Farm' in Halfway Creek, NSW Australia.
Gerald's story – Benefield's Orchard, Riverbank Road, Wanganui
Originally set up by Patrick and Diane Benefield in 1978, the company was transferred to Gerald Benefield (William's great grandson) in 1985 when they moved to Australia. The following article from the Wanganui Chronicle is used by permission of the author, Laurel Stowell.
'Apples keep retirement at bay' by Laurel Stowell
Wanganui Chronicle, Friday May 10, 2013 (used with permission)
Gerald Benefield thought he had retired in October last year – but came out of retirement to resume picking apples in April.
This year his apple crop hasn't been sprayed. Every last bit of it – an estimated 35 tonnes – has been bought by Otaki company CoralTree Organic Products, to make organic apple cider vinegar.
The company wants next year's crop as well, but Mr Benefield isn't sure they will get it. After 70 years, he'd like to retire properly.
He's the descendant of a nurseryman from Kent, England, who arrived in Wanganui in 1874, bringing plants, fruit and seeds. When Gerald Benefield does finally stop picking apples it will be the end of more than 130 years of Benefield orcharding in the district.
Benefield's Orchard was an institution for decades. It's just outside Wanganui where SH4 heads up the Paraparas. The family has been growing fruit there since 1910.
When Gerald and his wife, Catherine, bought the business in 1984 the roadside shop sold apples and pears by the case and half case, to people who ate a lot of fruit and did their own bottling.
They had 3000 trees on 9ha. Their sons picked in the school holidays, and there was a staff of six at busy times.
Then came the 1980s stock market crash, the rise in supermarkets and the decline in home preserving. People didn't want to drive out of the city to get their smaller quantities of fruit. In 1995, the Benefields stopped selling from the roadside and became wholesale suppliers to Write Price supermarket.
Supermarkets could be difficult customers, Mrs Benefield said. They only wanted medium-sized fruit, from modern varieties.
The Benefields downsized and abandoned supermarkets in favour of farmers' markets. They joined the Whanganui River Traders' market seven years ago, when there were just 20 stalls, keeping enough trees to supply it and the Feilding Farmers' Market.
At first children at the markets weren't interested in apples, and wives said even their husbands weren't eating them. That's changed, Mr Benefield said, with people now asking for old varieties and tarter fruit such as Cox's Orange, Sturmer and Ballarat.
They would ask Mr Benefield why his fruit tasted different from that in the supermarket. He said it was because his was ripened on the tree. Sometimes he and Catherine would pick a tree eight times, only taking the ripe fruit each time.
There are still a few tonnes of apples left to pick there this year. There are also five varieties of pear trees still standing. One, Beurre Clairgeau, was planted more than 100 years ago.
Those trees will have to be pulled out if the fruit isn't going to be harvested. If they're not pruned, fertilised and sprayed they'll go downhill fast.
If that happens it will be the end of a long era that started with William Benefield's nurseries and orchards, first in central Wanganui and then in Aramoho, back in 1874.
Sources:
Taranaki Herald, Volume XXII, Issue 2217, 8 July 1874, Page 2
http://paperspast.natlib.govt.nz/cgi-bin/paperspast?a=d&d=TH18740708.2.3.3
Waikato passenger list
http://freepages.genealogy.rootsweb.ancestry.com/~ourstuff/Waikato1874.htm
Newspapers reports:
MR BENEFIELD'S ARAMOHO NURSERY.
Wanganui Herald, Volume XXVI, Issue 7719, 19 May 1892, Page 2
http://paperspast.natlib.govt.nz/cgi-bin/paperspast?a=d&d=WH18920519.2.16
THE CYCLOPEDIA OF NEW ZEALAND [WELLINGTON PROVINCIAL DISTRICT] 1897
http://nzetc.victoria.ac.nz/tm/scholarly/tei-Cyc01Cycl-t1-body-d4-d171.html
THE ARAMOHO NURSERY.
Wanganui Herald, Volume XXXIV, Issue 10038, 16 May 1900, Page 1
http://paperspast.natlib.govt.nz/cgi-bin/paperspast?a=d&d=WH19000516.2.3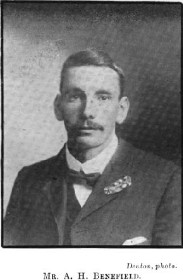 Arthur Henry Benefield – seen in this photo published in The Cyclopedia of New Zealand in 1908 – was one of the sons of William Thomas Benefield, founder of 'Benefield Nurseries' and took over the reins of the company in 1903.
Thirty years before, on 24 March 1874 William and his family had boarded the ship 'Waikao' at Plymouth, England and set sail for Auckland, New Zealand. Family tradition has it that William was a ˜nurseryman" and took with him plants and fruits and seeds.