William Dennis was born in 1869 in Eastry, Kent. He was the eldest of seven children born to George and Sarah Dennis (nee Fagg).
In the 1881 Census the family were living at Buckland, Woodnesborough in Kent. William was listed as being 14 years old and an Agricultural Labourer. William does not appear in the 1891 Census, but we know that in 1894 he married Emma Catherine Laurence.
According to the 1901 Census William and Emma were living in East Langdon with their young family: Catherine (b1895), Amy (b1896), Edmund (b1898) and John (b1900). William and Emma eventually had nine children, those born after 1901 being: Flora (b1902), Alfred George Charles (b1905), Arthur Frank (b1908), Ada (b1911) and George Herbert Lawrence (b1915).
It was in January 1934 that a tragic accident which would change the family's life forever.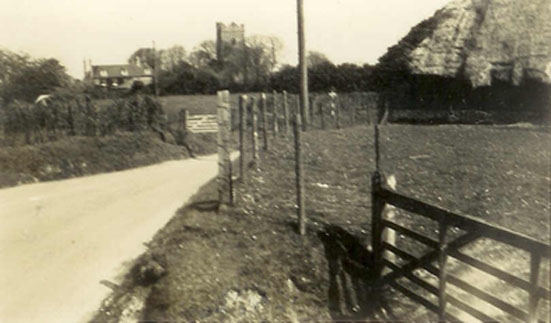 The following account is transcribed from the East Kent Mercury, published on 26 January 1934.
---
SUICIDE AT RIPPLE
Great Mongeham, Kent – Labourer found Drowned
William Dennis, aged 63 years, a farm labourer of Cherry Lane, Great Mongeham, was found dead in a water tank at Appleton Farm, Ripple about 1.15 on Saturday afternoon.
Full particulars were reported on Monday to the East Kent Coroner, Mr Rutley Mowell, who ordered a post-mortem examination on the body.
Dr T H Molesworth of Knocksedan, St Margarets-at-Cliffe, made the examination at 3pm the same day at The Hall, Ripple, to which place the body had been conveyed, and sent the results to the coroner, who then ordered an inquest to be held.
Mr Keen was the foreman at the inquest which was held in the Hall on Tuesday afternoon when a verdict of 'Suicide whilst of unsound mind' was returned.
Sarah Dennis, the wife, of 2 Cherry Lane, said that her husband left home at 7.15am on Saturday morning. He had been rather funny in his ways lately, doing strange things. He generally kissed her when he left home in the morning but that morning he did not do so, and she noticed that he put on his best boots. They had been married since September 2nd, and had been quite happy. He had never threatened to take his life.
Richard Amos, a farm labourer, of 3 Prospect Place, Martin, said that about 1.15pm on Saturday he returned to the field where he was rook-scaring, and saw a coat and cap lying about a yard from the water tank at Appleton Farm, Ripple. He looked into the tank and saw the body, after which he ran all the way to Martin and informed P.C Wood.
P.C Henry Albert Wood, stationed at East Langdon, said that about 1.30pm, he received information that a man was in a tank in a field in Ripple, & went there at once. He saw the deceased lying on his back in 22 inches of water. The knees were out of the water. With the assistence of others, he pulled the body out and found that the body was warm. He tried artificial respiration for about twenty minutes, but without success. A telephone message was sent to Dr. Molesworth, who came and pronounced life extinct. He found the cap and coat about one yard from the tank. The measurements of the tank were as follows: 30in high, 30in. wide and 42in. long. There was water in the tank to the depth of 22 inches. The tank when full would probably hold about 150 gallons.
Dr. Molesworth said he was called about 2.15pm and went to the place at once. He would say that the body had been in the water for about 1 and a half hours before he arrived.
George Herbert Dennis, a miner, at present unemployed, living with his sister Mrs Florence Relf at 2 Council Houses, Sutton said that he was the son of the deceased. About 8.30 at Saturday morning his father came to the house as he generally did to have a chat and to get his clean clothes. He afterwards shaved his father, who looked very ill that morning. He had since seen the body at the Hall, and gave evidence of identification.
P.C Edwin Witherden, K.C.C, stationed at Ringwould, said that about 3pm on Saturday he searched the clothing on the body and found a watch, a purse containing 1/7 in coins, and a pocket knife. He found no correspondence, and he found no marks of violence on the body.
The jury returned a verdict as stated.
Information provided by Terry Cleaver.