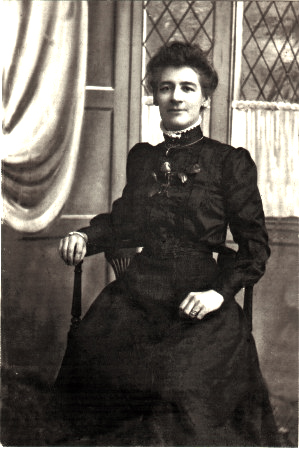 Jane Greenland was born in Dover in 1868, the eldest child of Jacob and Mary Ann Greenland. When she was 13 years old her mother died, and just two years later her father was tragically killed whilst working a night shift in Dover Harbour [see 'Jacob Winter GREENLAND (Mariner) – Inquest into suspected Drowning, 26 Aug 1883'].
And so by 1883 Jane had to take charge of the household (as stated at the inquest into her father's death) which now meant responsibility for bringing up her three younger siblings: Elizabeth (13), Annie (11) and John Jacob (10).
Ship's passenger records reveal that Jane boarded the Merkara in London, which set sail on 20 August 1890, bound for Queenland, Australia. She was 22 years old and one of 246 passengers on board the steamship, which arrived in Brisbane on 13 October 1890.
Jane married Joseph Milton, a former policeman from Withypool in Somerset.
Joseph had arrived in Australia sometime earlier, having left London on 13 November 1889 on the SS Dacca. The ship called at the Queensland ports of Townsville, Bowen and Mackay before arriving at Brisbane on 6 January 1890.
Joseph and Jane settled in Charters Towers, Queensland and opened a general store.
The town of Charters Towers was founded in the 1870s when gold was discovered by chance at Towers Hill on Christmas Eve 1871 by 12-year-old Aboriginal boy, Jupiter Mosman. Jupiter was with a small group of prospectors including Hugh Mosman, James Fraser and George Clarke. Their horses bolted after aflash of lightning. While he was searching Jupiter found both the horses and a nugget of gold in acreek at the base of Towers Hill. Mosman Street, Charters Towers " 1890s. Such were the boom years, between 1872 and 1899, that Charters Towers hosted its own Stock Exchange. A railway between Charters Towers and the coastal port of Townsville was completed in December 1882. During this period, the population was approximately 30,000, making Charters Towers Queensland's largest city outside of Brisbane. The City was also affectionately known as 'The World', as it was said that anything one might desire could be had in the 'Towers', leaving no reason to travel elsewhere.
---
On 6 February 1891, The Northern Miner (a local newspaper) reported that Joseph had been arrested with his friend Charles Philo, both charged with inflicting grievous bodily harm on a man named Ah Maie, a Chinese national. The incident took place on 15th January and the two men were alleged to have struck Ah Maie with large stones, and fired a gun at him. They were remanded in custody for eight days, whilst a statement was taken from Ah Maie, who was in the local hospital.
According to the 26 February edition of The Northern Miner, Ah Maie, who had been in the hospital since 31st January, suffering from a fractured skull and other injuries, died on 25 February, thus turning the case into a Murder.
A post mortem showed that the skull was fractured on the left side near the crown. There were also bruises on the right thigh and left leg. He was buried in the afternoon. Philo and Milton appeared in Court – the prosecution case was heard on 28 February, the remainder of the trial taking place on 8 May.
(A full account of the trial can be found in this report (pdf).)
Joseph and Mr Philo were eventually found Not Guilty of manslaughter by a jury (although the judge was not happy with this decision).
---
On 30 January 1893 Joseph and Jane had a daughter, whom they named Elizabeth (probably after Joseph's mother).
Sadly Joseph died just two years later, on 19th October 1894 from Tuberculosis ('Consumption'), aged 29 and was buried in South Brisbane Cemetery the following day.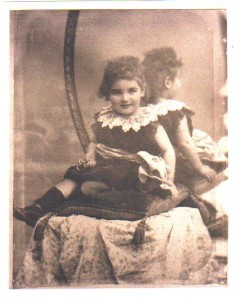 It was some ten years later – in March 1904 – that Jane made the decision to return to England with her daughter. They set sail from Sydney on 12 March aboard the SS Prinzregent Luitpold, arriving in Southampton, England about six weeks later, on the 28 April.
The 1911 Census records that Jane's daughter, Elizabeth, was aged 19 and working as a House Parlour Maid for retired Colonel of the Royal Engineers and his family 6 Clarence Lawn, Dover. So far, and entry for Jane has not been found.
Jane never remarried after her return from Australia and she died in Dover in 1935, aged 67. Elizabeth married Frederick Pile in 1913, with whom she had four children; after divorcing Fred she married Ernest Coade in 1952 and had two more children. Elizabeth died in Buckland Hospital,Dover in 1961.
(Sources: Tony Pile, Jo Gruenwald)