Ingram Willis was born in the village of Barham, Kent in 1837, the son of Ingram Willis* and Thomasin Finnis.   By the time of the 1861 Census he was a young man of 22 years old and was boarding with a family at Colebran Street, Charlton, in Dover as was employed as a Sawyer's Labourer.
On 30 March 1861 – a week or so before the Census –  the Dover Express reported that Ingram 'was charged with rescuing a prisoner from the custody of police constable Russell on Saturday night last (23rd March), when a fight took place near to the Excavator's Arms, Church Place.' He was convicted and fined 10 shillings, and 12 shillings in costs, which was paid.
Ingram married Susannah Burchett in Dover in 1864 and by the time of this story they had two children: Albert Ingram, born in July 1866; and Rose Jane  in October 1867.
On 18 March 1868 the Dover Telegraph and Cinque Ports General Advertiser reported that Ingram had appeared before magistrates charged with being drunk and disorderly in George Street, Buckland in Dover.  The Bench dismissed this charge, but then proceeded to hear a summons taken out against Ingram by his wife, Susannah, for using threatening language towards her, and ordered him to be bound in the sun of £20 and to find two sureties of £10 each for his good behaviour for three months.
---
On 28 March 1868 the following report appeared in the Dover Express:
DOVER POLICE COURT
SATURDAY – (Before J C Ottaway and Stein, Esqs)
ILL-TREATING A WIFE. Ingram Willis, a man in the employ of the London, Chatham, and Dover Railway Company, was charged with ill-treating his wife, whereby she went in bodily fear.
A summons had been returnable for the previous day, but the defendant did not respond to it, and he was not brought up in custody, having been apprehended by the police.
The wife, a respectable-looking young woman, on being asked if she still desired to prosecute the charge, replied in the affirmative. She was then sworn, when she said her name was Susannah Willis. She and her husband had two young children (Albert aged 2, and Rose Jane, 5 months old), and they lived in Buckland. The defendant had treated her with systematic cruelty for some time past, and on Monday, upon a dispute arising with respect to some domestic matter, he followed her into another room, and thrashed her, giving her a black eye. She attributed his unkindness in some measure to a feeling of annoyance on his part in consequence of her having some property in her own right, but she had supplied his wants out of this money, and had applied it in other ways for the benefit of the family. She did not give him unreserved possession of it, because she believed that if she did so he would dissipate it in drunkenness. Since the assault the defendant had threatened her, and she was persuaded that she could never live peaceably with him.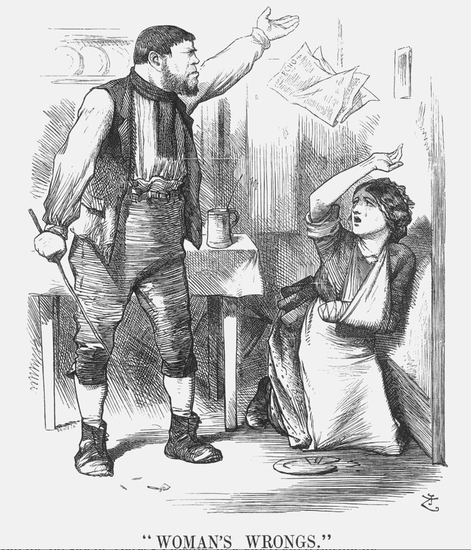 The Magistrates observed that they had no power to order a separation. This could only be accomplished by mutual consent.
In reply to a question suggested by the Bench, the complainant said she went in bodily fear of her husband, and desired that he might be bound over to keep the peace. The defendant had nothing to say, except that his wife was times very aggravating. He did not deny the assault, but promised that if his wife would overlook the matter now, he would behave better to her in future.
The complainant did not show any signs of relenting, and the Magistrates therefore called on the defendant to find two sureties to keep the peace. In default, imprisonment for two calendar months.
The defendant said he was not provided with sureties, but would send for them.
There was a second charge of drunkenness and disorderly conduct against the defendant, but as this arose out of the circumstances of the case just disposed o, the charge was not pressed against him.
---
*(The forename 'Ingram' is a common one in the Willis family at this time.  'Our' Ingram shared the name with his father, grandfather, great-grandfather AND 2x great grandfather. As a genealogist researching the family this can get confusing!)
Just two years later Susannah and her daughter Rose (then aged 17) were up before the magistrates on a charge of Manslaughter!  You can read about this case in Susannah & Rosie Willis – charged with Alleged Starvation of a Child – 1885