[The following account is taken directly from the memoirs of George and Amy's son, Fred Gurnsey,  and is used with his permission.]
1. Back to Victorian times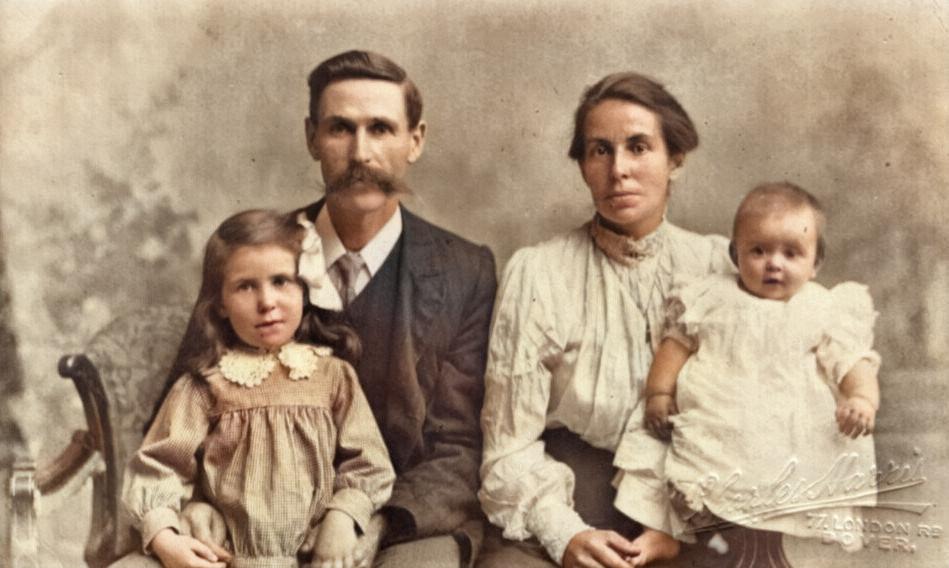 George Gurnsey and Amy Huggins were both born in the Spring of 1884 into a world that is so different from today that it is difficult for us to imagine. Since they were born things have changed much faster than at any other time in history. England was largely an agricultural land of quiet farms and gardens worked in the time honoured way by man and horse power. The towns and cities were filthy beyond description, although great efforts were being made to clean them up, but in many cases the roads and gutters were running with human and horse excrement. The industrial parts of the country were bleak, grimy and smoky – conditions described so well by Dickens in his novel The Old Curiosity Shop, written in the 1840s. The country was criss-crossed by railways powered by steam generated by coal. The motorcar had not yet arrived, Daimler was still three years away from building a petrol-driven engine, and it was nineteen years before man flew in a heavier-than-air machine. All journeys were made either on foot, on horse-back or horse-drawn vehicle or by train.
Houses were filthy and insanitary. Only one room, except in the houses of the rich, was heated and that by a coal fire so that chimneys had to be swept frequently, and everything in the house was soon covered with soot, and at the end of every winter the house had to be 'spring cleaned' from top to bottom. There were no detergents and everything was washed by hand using bars of hard soap and soda. Nothing ever became really clean. Most houses did not have a bathroom, nor an inside lavatory. The houses in Dover where George and Amy lived – both that in Clarendon Place and 2 Westbury Road where they moved in 1930 – had only one cold water tap and an outside lavatory. There was no bathroom – their family had baths in a tin bath in front of the kitchen range. Towns were lit by coal gas since lighting by electricity did not come in to any extent before the early part of the 20th century. Houses were lit by paraffin oil lamps or by candles. The house at Clarendon Place had no electricity. They had an oil lamp in the kitchen, the main living room and candles in every other room. In Westbury Road they had electricity except in Fred's bedroom – so he had a candle to light his way to bed!
Queen Victoria was three years away from her 50 Year Jubilee and George and Amy remained Victorian in their outlook all their lives. They both went to the same village school in Luton, near Chatham, and they became childhood sweethearts, remaining faithful to each other for the rest of their lives.
2. Amy Florence Huggins

Amy Florence Huggins was born on 14 March 1884 in the village of Capston near Luton in Kent.  Her father, James Huggins (1840-1899) was the wagoner in charge of the horses on the farm and her mother, Eliza (nee Calloway) (1844-1940) cooked for and fed the farm labourers their midday meal.
Her father died at the age of 59, when Amy was 15 years old while her mother, who was eight years younger than her husband, lived for another 42 years to the age of 92. They had a family of seven children: besides Amy there was Mary (1866-1957), Frances (1870-1939), James (1872-1950), William (1875-1946), Rose (1878-1975) and Amy's younger brother Jasper (1887-1967).  How their mother, Eliza, managed to live after James' death is unknown. Maybe she found work on  the farm as there was no public help for poor people in those days – only the threat of the Workhouse.  That was the dread that both George and Amy had all their lives, in spite of the workhouses having been abolished after the First World War.
Amy was said to have been quite a 'tom-boy' – but in those days there was little employment for working-class girls other than as servants to richer people. Amy was sent away to 'service' in 1897,  when she was about 13 years old. She became a 'skivy' or 'slavey' in the household of an archdeacon in Farnborough near Aldershot, where her older sister, Rose, was already in service.  Amy later recounted that Rose was horrible to her – but Fred suspects that servants above Rose were chasing her, plus Rose could not be seen to be showing Amy any favouritism. Amy, only 13 years old, would have had to be accompanied to Aldershot as it would have meant a journey by horse-drawn cart to the railway station at Chatham, and then by rail to London to connect with the train to Aldershot. Why an archdeacon at Aldershot needed to send to Luton to find a certain is not known. Perhaps he had served at the cathedral in Rochester and Rose had been employed there and he had taken her with him when he moved, and then thought that it would be nice for Rose to have the company of her sister when another maid was needed. There was a French girl in service there as well, and she and Amy became friends. When the French girl returned home she married a Frenchman and they settled in Bolougne and Amy and she corresponded regularly until well after the end of the Second World War.
A servant's work was hard and unpleasant and they worked long hours. They were housed either in cold, draughty attics or in cold, damp basements. The work was often dirty, unpleasant and disgusting and entailed the emptying and cleaning of chamber pots. If there were indoor toilets they were often far away from the bedrooms. There were also coal fireplaces to be cleaned and fires to be made up every morning before the masters and mistresses got up. If a fire needed making up during the day a bell would be rung for the servant to come and make it up.
Amy remained with the same family until she was married at the age of 25 years (in 1909). She and George remained happily married for 64 years, until Amy was widowed in 1973. Amy eventually died in her sleep on the afternoon of 22 February 1978, less than a month away from her 94th birthday.
3. George Archibald Gurnsey
George Archibald Gurnsey was born on 17 May 1884 in Luton, Kent. He was the son of George Gurnsey (1851-1930) and Catherine Robinson (1852-1929) and was one of nine children: Charles (1875-1911), Eleanor (1876-77), Kate (1877-1933), Ernest (1879-1942), Sidney (1880-1958), Mabel (1881-1965), Isabel (1883-1911) and George's younger sister Constance (1888-1972). It is thought that George Snr had been a shop assistant at one time and worked in Folkestone, and may also have later worked in Chatham Dockyard. Fred remembers that they had a nice house on the Luton Road with a big garden which had been designed by George Snr's mother, Mary Ann Gurnsey (nee Wenman) (1815-1860) and as a child Fred loved running around its winding paths.
When George left school, perhaps at the age of 12 or 13, he worked in  Chatham for an undertaker called Apps, who was a relation of his. Fred remembers as a child visiting the Apps' – their house was attached to the workshop where the coffins were made. They took afternoon tea with two elderly ladies, rather plump and (it seemed to Fred) wearing too many clothes. One of them was cuddling a very snappy lap dog which no-one could approach! They were Fred's great aunts or second cousins or some such relation. (Rebecca Huggins, Amy's aunt, married Thomas Apps in 1872 so they would have been related). George was thus trained as a coffin maker but, on completing his apprenticeship at the age of 18 years (in 1900), he joined the Army, the Royal Engineers in Chatham. He was a good soldier and, in 1902, won the Haynes Medal for being the best sapper of the year in Field Fortifications.
At that time there was no Royal Corps of Signals and all signalling and telecommunications were carried out by the Royal Engineers, and George was trained in that work and was posted to Malta to work on the military telephone system of the island. He suffered from Dalton's colour blindness, being unable to distinguish between the colours red and green, so he must have found the work difficult since, until recently, telephone and electric wires used those very colours to distinguish between 'live' and 'neutral'!
It was while George was serving in Malta that he was introduced to Christianity, and joined the Army Scripture Readers Association. As a result of his new-found beliefs he refused promotion and left the Army in 1910 when his 8 years service was complete.
George and Amy were married on 24 April 1909 in the Wesleyan Chapel in Farnborough, Hampshire. Amy was described as a domestic servant living at Springdale, Reading Road, Farnborough, and George was a sapper in the Royal Engineers stationed at Aldershot. They were both 25 years of age.
4. Starting a family
George and Amy's first child – a son called Georgie – was born on 5 August 1910; his sister (and my grandmother) Nelly was born on 30 May 1912.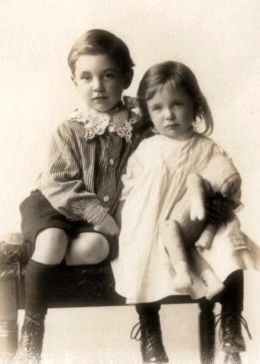 When he was five years old Georgie became very ill with pneumonia and reached the heights of his fever on a Sunday evening. His father, George, went to fetch his doctor, Dr Jordan, but he refused to visit as it was a Sunday. George then went to all the other doctors in town but they all refused to attend Georgie as he was not their patient. That night, 17 April 1916, he died.
In the following months George and Amy tried for another child and on 17 February 1917 another son, Frederick, was born.
Three years later, on 20 March 1920, a second daughter, Amy, was born.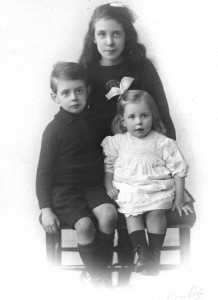 5. Wartime & later life
George and Amy moved to Dover where George was employed as a civilian – still working on telecommunications systems as he had done in the Great War. His work was the installation and maintenance of the telephonic communications of the defence of the area from Newhaven round the North Foreland in Dover.
At the outbreak of the Second World War, George and Amy were living at 3 Westbury Road in Dover. According to The 1939 Register, George's occupation was a Telephone Fitter, who was also a Corporal in the Royal Corp, Special Reserve. Amy was a housewife. George and Amy were aged 55.
During the War George had to join the army (he was 56 years old) and was given the rank of Sergeant in the Royal Corps of Signals, but was allowed to remain in Dover doing the same work he had done as a civilian. He was offered a promotion to Warrant rank but refused because it would have meant moving away from Dover. So he and Amy remained in Dover through all the bombing and shelling – surely no other serviceman had to go through such an experience for such a long period!
George and his family attended Salem Baptist Church in Dover, but when a new minister came along who was 'modern' in his theology George 'relocated' their allegiance to the Plymouth Brethren chapel. He worked hard for them but, after a while he became disillusioned with them and went back to Salem! He then became superintendent of the Baptist's mission at Capel-le-Ferne, near Folkestone, and Amy ran the women's meetings, made a success of it and was well liked.
Being superintendent meant taking the Sunday evening service and, since he did not use public transport on a Sunday, he bought a bicycle and cycled with Fred to Capel every Sunday – a journey of about 5 miles – uphill, against prevailing westerly winds. Fred recalls that in the summer it was a nice ride, but in the winter, with a westerly gale and driving rain it was quite another matter! Being a fit teenager Fred enjoyed it, but George, after a hard week's work, found it tiring. Amy's women's meetings were on weekdays so she was able to use to buses.
George suffered for a long while with Meniere's disease of the middle ear and later, from angina. He died, after a short illness, on Friday 12 January 1973, aged 88 years, and is buried with Amy and Georgie in the grave they had bought in Charlton Cemetery in Dover.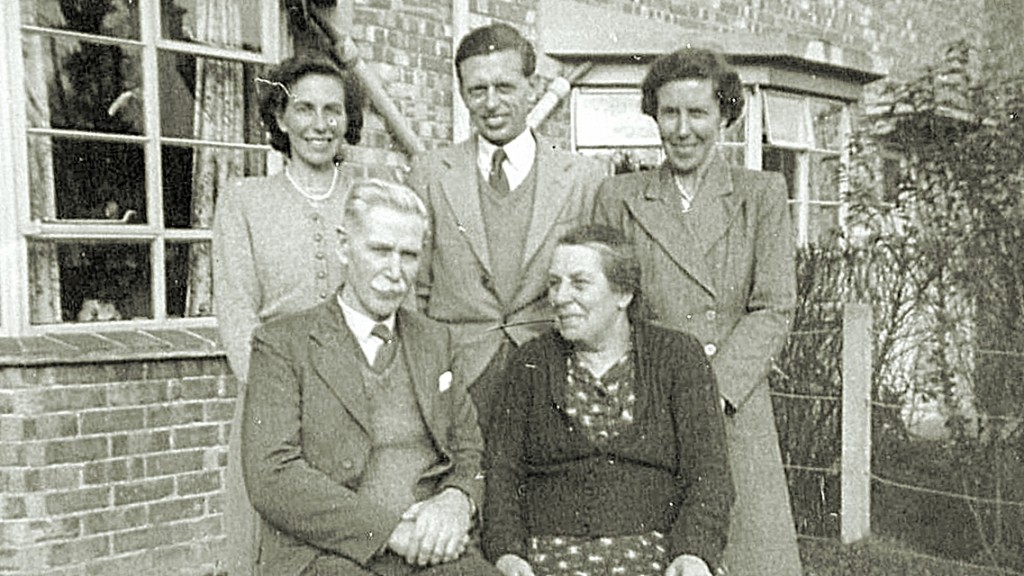 ---
This account comes from Part 1 of Fred's autobiography 'My Family and I'. You can read Part 2 in 'Fred GURNSEY's escape from the Japanese attack on Singapore, February 1942 telling the story of his parents and family and Part 3 in ''For the wind is in the palm-trees and it's there that I would be' – Fred Gurnsey's post-war adventures.' which continues the story after the end of World War 2.
To order a copy of 'My Family and I' for your Kindle, click on the image below.