On 30 Oct 1885 the Kent & Sussex Courier reported that
'Rose Jane Willis and Susannah Willis were acquitted of manslaughter at Dover'.
This one simple sentence is the final chapter in a sad and heart-rending story which started in August of that year with the birth of a child called Alice. (The following includes details drawn from a number of reports of the inquest in various newspapers of the time).
---
Rose Jane Willis was born in 1867, the daughter of Ingram Willis and Susannah Burchett.  At the time the family were living in Chapel Court, just off Snargate Street in Dover.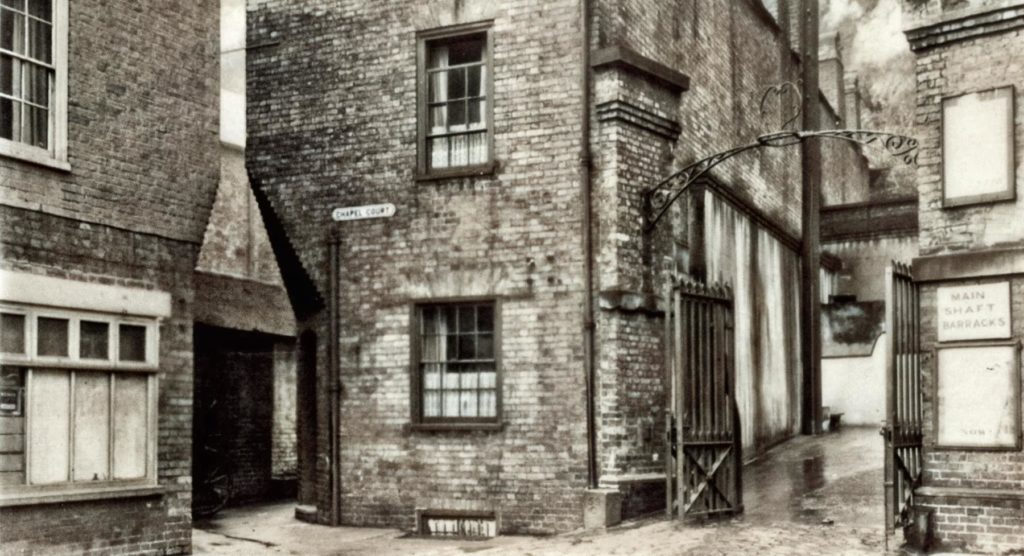 Rose was the middle child of three born to Ingram and Susannah but it wasn't a blissful upbringing, with her parents in an abusive relationship, Ingram being charged on at least one occasion with domestic assault (see ILL-TREATING A WIFE – Ingram Willis charged with ill-treating his wife, 1868).
On 23 July 1885 a baby girl was born to Rose Willis.  She gave her the name Alice Maud. At the time Rose was just 17, and Alice was born illegitimate.  Newspaper reports state that Rose was a Workhouse inmate at the time.  About 3 weeks after Alice was born (about 12 August?) Rosie left the Workhouse and went to stay with her mother, Susannah, who was now a widow (her husband Ingram having died in July 1883, aged 46).
The official inquest into the cause of death – alleged to be starvation, was opened on Monday 24th August (the day Alice was buried) by the Coroner Mr Sydenham Payn at Dover.  It was adjourned later that day, and re-opened on 3 September
Details of these hearings are taken from two reports published in the Canterbury Journal, Kentish Times.  One on Saturday 29 August, the second a week later, 5 September.
---
It was on Wednesday 19 August – at about 3pm –  that Susannah took baby Alice back to the Workhouse to see one of the union medical officers there.  Susannah said she thought the child was dying, and if it died without a doctor's certificate she might get into trouble.
Dr Ormsby looked at the child and told Susannah she must give Alice milk and brandy every half an hour; and that he should 'decline to give a certificate of death in the event of the child dying'.
Dr Fenn, the house surgeon there also examined the child and found it to be in 'a frightfully emaciated state' and he did not think it would live long.
(Alice was baptised on 20 August 1885 at the parish church of St Mary the Virgin, Dover. It seems likely this is the day that she passed away as well.)
DrJohn Ormsby later called to see baby Alice at Susannah's home. It was lying on a small table, 'covered over face and all'.  In a few minutes the mother and grandmother came downstairs.  Dr Ormsby examined the baby, and she was in a frightful state of emaciation, and soon afterwards expired.
By order of the coroner, Dr Ormsby, together with a Dr Walter, made a post-morten examination of the body.  The child was found to be well developed, but was extremely emaciated, and should have been four times the size.  Every trace of fat in the entire body was absent.  He was of the opinion that the child died from slow and gradual starvation.
Alice was buried on 24 August 1885.  She had lived just 29 days.
After the Inquest – which in total lasted 7 hours – the jury in Dover returned the following unanimous verdict:
'We find that the child died from neglect, and that the neglect amounted to manslaughter on the part of the mother and grandmother. '
Both Susannah and Alice's mother Rosie were taken into custody. The next day they were both brought up before the magistrates.  They ultimately found that there was not sufficient evidence to justify committing the two women on a charge of criminal neglect.
They appeared on trial at Manchester Assizes on 27 Oct 1885 on a charge of Manslaughter but were found Not Guilty and were Acquitted.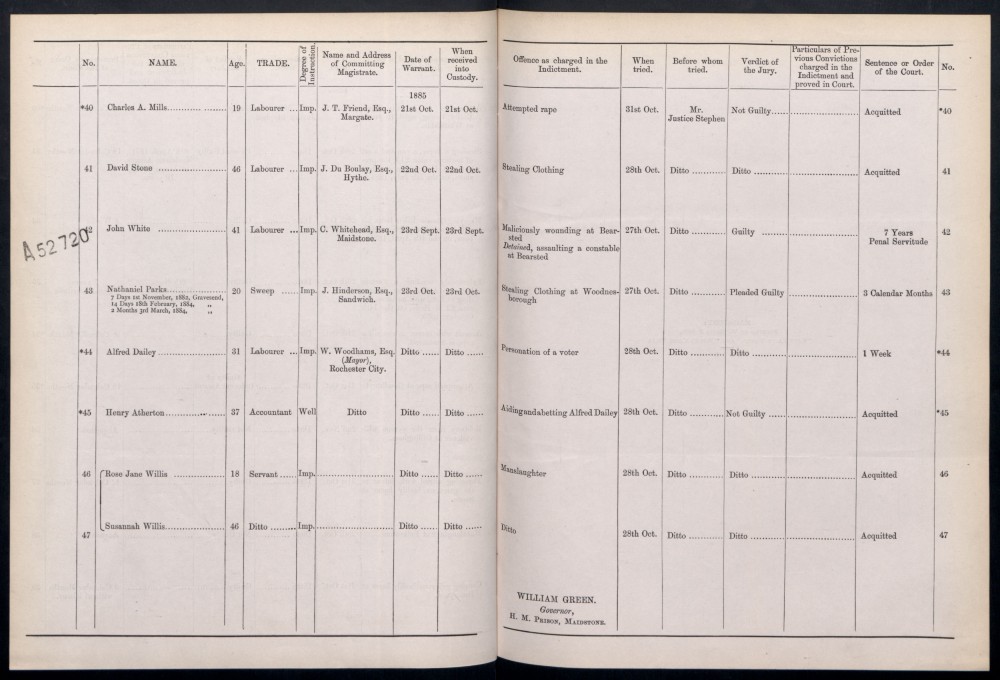 ---
Footnote:
Dover Express 30 Oct 1891
CUTTING A CLOTHES LINE
Mary Stokes was summoned by Susannah Willis for wilfully cutting her clothes line and a towel, doing damage to the amount of 1 shilling.
Susannah Willis said that she lived at 8 Chapel Court, and the defendant lived in the same court. Persons living in the Court had been in the habit of drying clothes there. Last Wednesday afternoon she had some clothes on the line, and she saw the defendant cut the clothes line and a towel, doing damage to the amount of 1 shilling.
Frank Charles Lane corroborated this.
The defendant was fined 1 shilling, damage 1 shilling, and costs 9 shillings and 6d, and was allowed until Saturday for payment.